Please also check out our Career Resource Center page and our Employment, work experience, volunteer and learning opportunities page
Spectrum offers five Career Prep Programs.  Below is information and applications for each of these programs.  Students entering grades 10 & 11 and who are interested in applying, should complete their program choice application and return the form to our Career Center Coordinator.
2017-18 CAREER PROGRAMS
BUSINESS     2017-18   ~  CP Business Application
CULINARY ARTS     2017-18  ~  CP Culinary Arts Application
ELECTRICAL TRADES     2017-18   ~  CP Electrical Application
LAW     2017-18  ~   CP Law Application
OUTDOOR RECREATION     2017-18  ~  Outdoor Recreation Career Application
DISTRICT PROGRAMS

DUAL CREDIT COURSES
You can save time and money by taking Dual Credit programs and courses offered through the South Island Partnership (SIP). You'll be a college student while you're still working on completing high school.
Dual Credit opportunities are available in trades, technology, health & human services, business, sport & exercise and arts & science university transfer. In many programs, Camosun reserves seats especially for SIP students.
Each school district offers different choices, and in most cases, you can apply for any SIP Dual Credit program, even if it's not offered in your own school district. Some classes are held in a high school, others at Camosun, and sometimes both locations are used. You can choose to take one individual course offered in the evening after school, or a full-time program that runs in parallel to your school timetable. There are also online courses available.
Check out our Spectrum page with more info on the Dual Credit program
PROGRAMS     
Career Exploration   
Trades Apprenticeships
Camosun offers apprenticeship training in a wide variety of trades, including 12 trades with the Interprovincial Red Seal endorsement.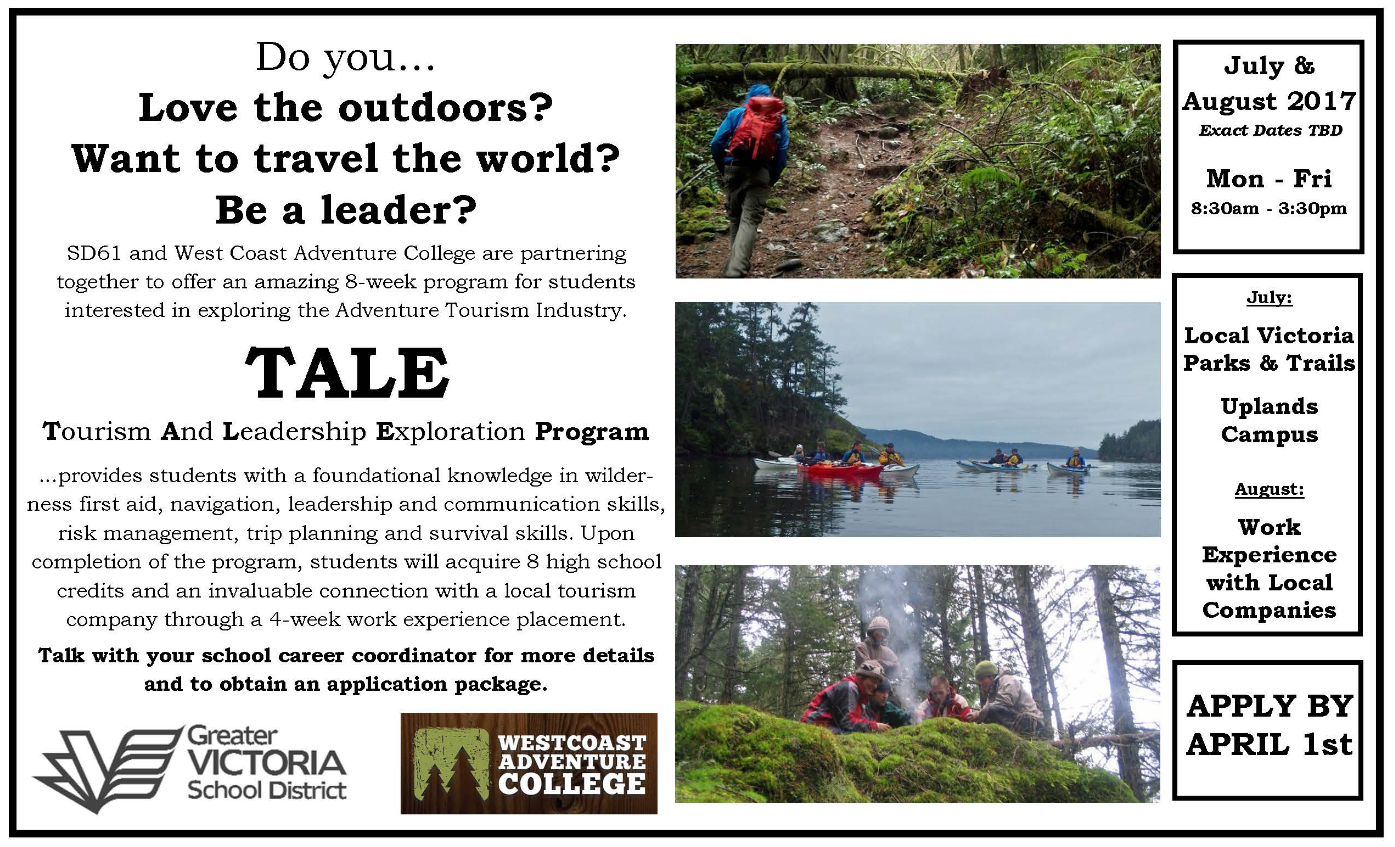 Tourism and Leadership Exploration Program: SD61 and West Coast Adventure College are partnering together to offer and amazing 8-week program for students interested in exploring the Adventure Tourism Industry.  Check out the District webpage for more information.  See Mrs. Johnson in the CRC for more information or for help filling in the application forms.
Are you ready to explore the aviation and aerospace industry? How about… Learning how to fly a plane; Building Radio-controlled Airplanes; Applying Engineering and Aerospace Design? February 2016, Mt. Doug is hosting a district-wide, semester-long aviation and design program.  Check out the District Information page or talk to Mrs. Johnson in the CRC for further details.
TEAC 105: This dual-credit course provides current high school students with an introduction to careers and basic skills in Computer Science, Electronic and Computer Engineering Technology, Civil Engineering Technology, and Mechanical Engineering Technology. Students will complete a hands-on project in each of the 4 areas ands they explore potential career and post-secondary options within the 4 technology areas.  For more information please check out the Camosun College page and see Mrs. Johnson in the CRC for questions and further details.
If you have any questions about these programs, or wish to access these reserved SIP seats and tuition funding, please contact your Spectrum's Career Programs Advisor Mrs. Lindsay Johnson (ljohnson@sd61.bc.ca).