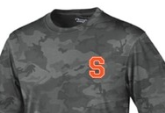 We have been working with a new distributor for our Spectrum Wear and have made the decision to move to an online store system for all of our Spec Wear.  We are excited to say that our new Spec Wear store is open and ready for business! Please note: the store will close Nov. 27 at midnight.
Feel free to check out the items and place an order if you'd like to have a new Spectrum Wearable.
https://spectrumschool.itemorder.com/sale?read_message=true
Please click on the link above to place your order and see the items.
Store is open now through to November 27.
ORDERS WILL NOT BE PROCESSED UNTIL THE ONLINE STORE CLOSES ON Nov 27 (Midnight).
Please allow approx. 3 weeks from the time the store closes for your order to be ready for pick-up at the school.
You will be contacted when items are ready for pick-up.​
You can also find the link on our school website under the Student Info tab > Spirit Wear (School Clothing)