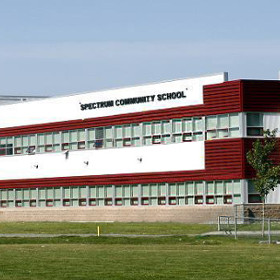 Spectrum Community School is a comprehensive secondary school (grades 9-12) situated in the western sector of the Greater Victoria School District #61.
Currently, we have a diverse student population of approximately 1200 students. In addition to our extensive range of courses, clubs and programs, a few highlights include: AVID; a Hockey Skills Academy; honours' classes; junior and senior Musical Theatre; 19 athletic teams; and Career Programs including: Culinary Arts/Cook Training, Law Careers and Outdoor Leadership. We are very proud of our full band program with Junior and Senior Concert and Jazz Bands and a Marching Band. Spectrum students enjoy our state-of-the-art Library as well as four computer labs and our popular cafeteria service.
We look forward to meeting you!